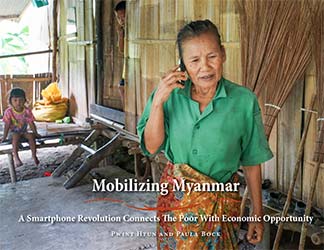 DON'T MISS
Mobilizing Myanmar
A Smartphone Revolution Connects The Poor With Economic Opportunity
Commissioned by the Bill & Melinda Gates Foundation, "Mobilizing Myanmar" explores the momentous Smartphone Revolution underway in an impoverished, once-isolated country where cell towers are now sprouting faster than bamboo. Read more.
"My dream is for everybody – every landless farmer, every woman, every street peddler – to be digitally connected so they can access financial services, markets, and information. If they can connect, they'll be able to lift themselves up." – Pwint Htun, architect of Myanmar's digital financial services industry.
Download report here.
FEATURED POST
Off the Beaten Path

It's been more than an hour on the back of a motorcycle in rural Myanmar. The greater the distance between us and Kyaing Tong, one of Shan State's principal cities, the more the landscape changes. Buildings are replaced by rice fields, and the cement road turns to dirt. Soon, we reach the foot of a mountain and begin our journey up, twisting around gaping fissures made by monsoon storms.