BUILDING COMMUNITY RESILIENCE

Early 2019 has been a tumultuous time for already vulnerable communities in Myanmar. Still, amidst daunting challenges, our partners continue their important work of defending human rights and building resilience through education, even when it is impossible for them to go home.
READ MORE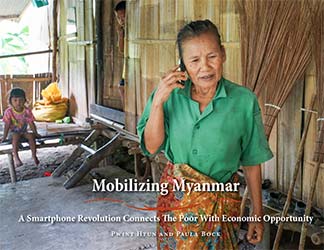 Mobilizing Myanmar
A Smartphone Revolution Connects The Poor With Economic Opportunity
Commissioned by the Bill & Melinda Gates Foundation, "Mobilizing Myanmar" explores the momentous Smartphone Revolution underway in an impoverished, once-isolated country where cell towers are now sprouting faster than bamboo. Read more.
"My dream is for everybody – every landless farmer, every woman, every street peddler – to be digitally connected so they can access financial services, markets, and information. If they can connect, they'll be able to lift themselves up." – Pwint Htun, architect of Myanmar's digital financial services industry.
Download report here.