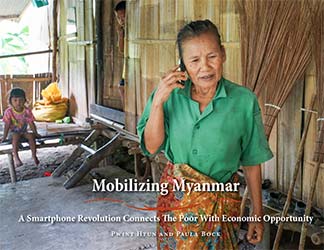 DON'T MISS
Mobilizing Myanmar
A Smartphone Revolution Connects The Poor With Economic Opportunity
Commissioned by the Bill & Melinda Gates Foundation, "Mobilizing Myanmar" explores the momentous Smartphone Revolution underway in an impoverished, once-isolated country where cell towers are now sprouting faster than bamboo. Read more.
"My dream is for everybody – every landless farmer, every woman, every street peddler – to be digitally connected so they can access financial services, markets, and information. If they can connect, they'll be able to lift themselves up." – Pwint Htun, architect of Myanmar's digital financial services industry.
Download report here.
FEATURED POST
Help Rohingya Refugees

An estimated 680,000 Rohingya refugees have fled across the border from Myanmar into Bangladesh since late August, seeking refuge from violence in Rakhine State. With camps overflowing and new arrivals every day, a humanitarian crisis is rapidly unfolding.
READ MORE